Reliable In-Home Massage Therapy
Finding time for a massage with your busy schedule can be difficult. You work incredibly hard to make sure you achieve your goals, and trying to fight LA traffic to get to another appointment across town can increase stress levels unnecessarily. However, you understand the importance of taking care of your mental and physical health which leaves you with the question:
How can I fit a massage into my schedule? 
Massage Rx is the answer!
With our Beverly hills in-home physical therapy network, you can have a skilled and certified massage therapist at your door on your schedule. We practice functional manual therapy which does more than relieving your pain short-term. Our goal is to deliver you long-term results that elevate the quality of your life.
Why choose In-Home Massage Therapy in Los Angeles?
Convenient, You can schedule us to set up at your business, home, or hotel room.

Stress-Free, Your mobile massage therapist will be on time, but if they are ever 30 minutes late, your session will be completely free!

Functional, Our team is trained in Myofascial release, Trigger Point Therapy, Postural correction, Deep Tissue, and PNF/MAT stretching. We tailor your in-home massage to your body's needs!
Book now to have sports massage, postural correction, injury recovery, and more delivered straight to your home or hotel room when you need it most.
Free Body Assessment
Los Angeles is full of massage services that focus on relaxation without addressing the core problems of your pain.
Massage Rx offers a 60-minute in-home physical therapy experience with a Free Body Assessment for only $147.
Using MAT stretching your massage therapist determines any problem areas related to:
Headaches and migraines

Neck pain

Shoulder pain

Lower back pain

Ankle and Hamstring pain
Your skilled and knowledgeable therapist will find the root of your discomfort
and recommend the best solution for your needs, along with a comprehensive wellness
program for after your massage.
Lower Back Pain
Neck Pain Therapy
Ankle Pain Therapy
Leg Pain Therapy
Joint Pain Therapy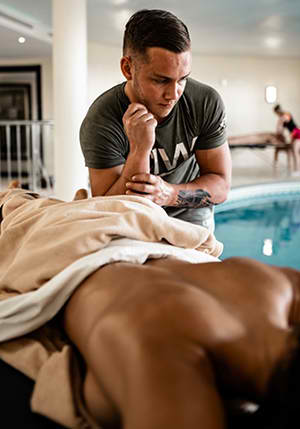 Pelvic Pain Therapy
Abdominal Pain Therapy
Head Pain Therapy
Foot Pain Therapy
Total Body Pain Therapy
Shoulder Pain Therapy
Knee Pain Therapy
Hip Pain Therapy
Dedicated In-Home Physical Therapy Services
Our therapists use their years of experience and continuous training to elevate your health, getting you closer to your goals, on your time! Each member of the Massage Rx team participates in weekly training sessions that includes a live case study participant. Founder, CEO and Master Manual Therapist Jay, demonstrates the most effective techniques to assess and repair painful body conditions.
Let the certified and insured Massage Rx team improve your mobility, and bring balance to the body, all within the comfort of your own home.
Now is the time to experience the best in-home physical therapy in Los Angeles, book today!