In Home Massage Therapy in North Hollywood
When the weekend rolls around we know that all you want to do is go outside, hike, or go to eat with your friend and family amongst other things. We as humans sometimes don't stop and think of ourselves and what we can do to make ourselves feel better.
We live such a go go go lifestyle that we forget that once in a while we need to care for ourselves. Self-care is the best thing that you can do not only for your physical well being but for your mental well being too. Our body is like our temple. We have to make sure we are treating it as we should. Good nutrition accompanied by good self-care will only make you feel better as a person not worse.
Self-care is one of the most important in home massage therapy North Hollywood believes you as a person have to do. Because what will happen if your mind is like a 20-year-old but your body is like a 60-year-old your body will not be able to keep up. Maintaining your body through massage is one of the best things you can do to self-care. Not only will massage help you with feeling great but it will get your body that much-needed blood flow into other muscles you might have been neglecting for some time.
In home massage is the best thing you can do to self-care. We recommend it for anyone who has high-stress levels, high anxiety, and extreme pain. Although you might think that massage is not something that you would consider, we encourage you to try alternatives rather than going to the doctor to get more pills to resolve whatever discomfort you are trying to suppress. Pills will not always take care of the problem and they always have side effects as well.
Once you have had an in home massage you'll never want to book a regular massage. You will see how convenient it is for a therapist to just come to your home without you having to do anything extra other than place a call. Our Massage Rx representative will always be there to assist you and if you can't get a hold of us via phone you can also text message us at 213-674-8884. Our hours of operation are 10:00 am – 7:00 pm Sunday through Saturday. If an earlier appointment or later appointment is requested we will try our best to make accommodations. If you live in the Studio City or North Hollywood area give us a call.
Lower Back Pain
Neck Pain Therapy
Ankle Pain Therapy
Leg Pain Therapy
Joint Pain Therapy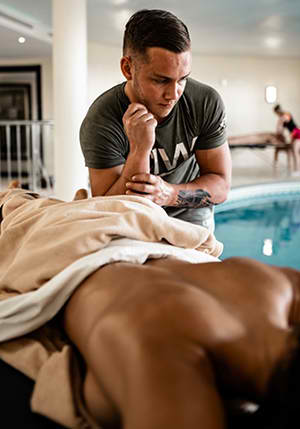 Pelvic Pain Therapy
Abdominal Pain Therapy
Head Pain Therapy
Foot Pain Therapy
Total Body Pain Therapy
Shoulder Pain Therapy
Knee Pain Therapy
Hip Pain Therapy